Love the skin you're in. Whether you have a niggling skin condition, need to treat fine lines and wrinkles or simply want more youthful and beautiful rejuvenated skin, we can help.
Below Zero Signature Non-Surgical Facelift
Using a combination of our award-winning cryotherapy and light therapy technologies, this treatment will smooth out facial lines, reduce blemishes and wrinkles and result in a tighter skin appearance within a few minutes.  A full set of applications (from 4 to 8) will naturally begin to Read more
renew production of collagen. Consequently, the result of a course of treatments is a long-lasting return of a more youthful, clear and younger skin.
Reduces appearance of wrinkles and fine lines

Stimulates production of collagen resulting in fuller, more youthful and beautiful rejuvenated skin.

Puffiness around the eyes can be significantly reduced or totally eliminated.

Pores on the face and neck reduce in size, limiting the intake of toxins, dirt and grime.

Benefits across the lymphatic system, flushing away built up toxins, soothing inflammation and irritation, removing puffiness, and redness.

Skin conditions like Dermatitis, Eczema, Acne and Psoriasis could be reduced.
After one session you can clearly see the reduction of lines, puffiness and clearing of skin colour.
A concentrated hydrating / oxygen boosting facial using a combination of medical grade light therapy and products for dry and dehydrated skin that has very little natural oil. Contains asiaticoside (Centella asiatica) which supports collagen and serves as an anti-inflammatory. Read more
Also contains licorice extract for clarifying and brightening dull skin.
Bt-Infusion Acne Clearing Facial
This concentrated facial uses a combination of medical grade light therapy and cryotherapy, and products that contain salicylic acid to reduce congestion, while papaya extract softens skin and reduces oil. Also contains hyaluronic acid to hydrate skin.
A concentrated Hyaluronic acid boosting facial uses a combination of light therapy and products that are rich in hyaluronic acid, contours to the face, locking in moisture and enhancing other products applied Read more
underneath. This feels soothing and relaxing on the skin, the benefit of this ultra-hydrating facial is derived from the hyaluronic acid and sea extracts formulation that surrounds the gel structure.
Whiten any teeth shade while successfully creating an anti-aging effect to the teeth and gums, creating a whiter and brighter smile without the use of harsh bleaches.
This concentrated anti-aging facial uses a combination of medical grade light therapy and products containing collagen to increase moisture, tone, and resiliency while diminishing the appearance of fine Read more
lines and wrinkles.
Makeup application can be purchased as an add-on after a Cryo Facial treatment. By appointment only.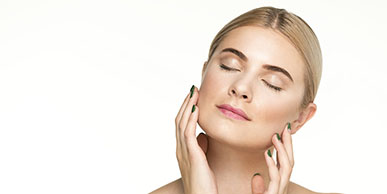 Non-Surgical Cryo Face Lift
Increase collagen and elastin, smooth out wrinkles and blemishes. The alternating temperatures between hot and Read more
cold trigger deep layers of collagen into production for a tightening effect on the skin. After 4-5 sessions clients report more youthful looking skin, reduction of puffiness and smaller pore size. Also amazing for toning the jawline and neck, say goodbye to that double chin and Botox forever. This is an Australian Register of Therapeutic Goods registered medical grade therapy.
This treatment is targeted specifically to reduce and eliminate acne, psoriasis, rosacea and dermatitis. Read more
No age restrictions - suitable for children and adults.
Book your cryo session NOW!
Treat skin conditions and retain a healthy, youthful glow.