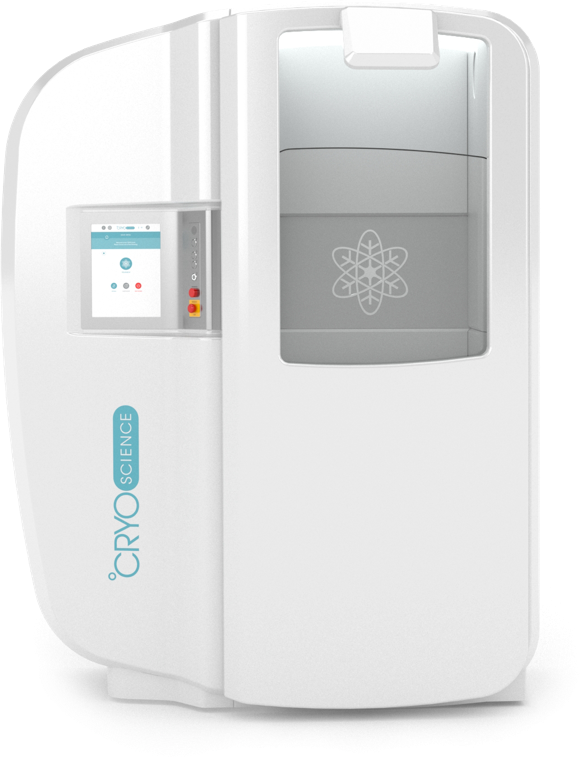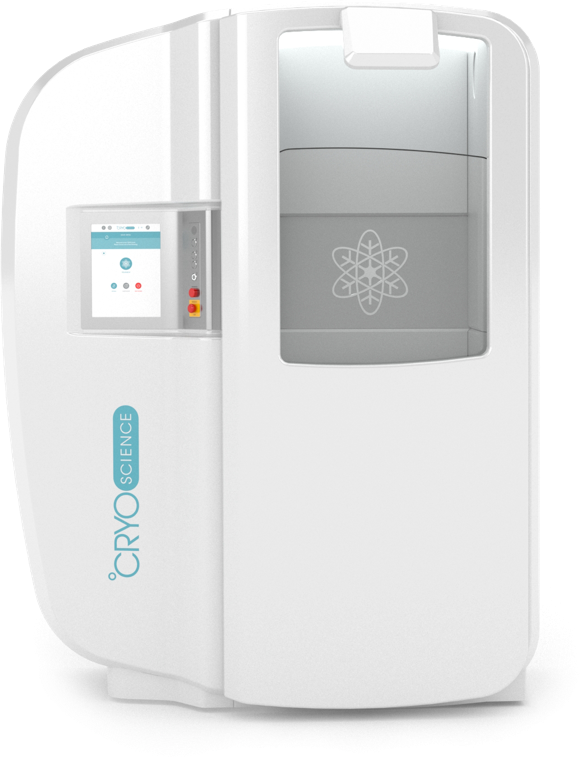 What is the Cryo Arctic™ Chamber?
The CRYO ARCTIC™ CHAMBER involves subjecting your whole body to extreme cold. Liquid nitrogen cools the air to temperatures as low as -130 degrees in our cryo chamber (a small room with a glass door) which surrounds the entire body.
How does whole body cryotherapy work?
During this 3-minute treatment, your skin dramatically cools down which activates receptors to the brain telling the body to go into survival mode. The brain then re-routes oxygenated blood to vital organs to keep them warm. There is no danger to body organs as the cold air only reaches less than a millimetre beneath the skin.
Our chamber is the coldest and most effective whole body chamber available.
What are the benefits of cryo chamber treatments?
After the treatment, the higher quality blood rich in oxygen and nutrients is then pumped around the body, helping to heal pain, decrease inflammation and improve skin.  When you step out of the chamber, your body will release a rush of endorphins, elevating your mood.
How does cryotherapy accelerate weight loss?
As part of an ongoing weight-loss program focusing on nutrition and exercise, cryotherapy can help you lose weight faster. It speeds up metabolism as it causes the blood to pump rapidly around the body to protect your organs from the cold. This faster blood flow boosts metabolism and can burn up to 800 calories per 3-minute session. (The same number of calories are spent by going for a gentle jog for 45 minutes)
How does cryotherapy reduce pain?
If you're suffering from acute, chronic or persistent pain, cryotherapy may help. During the 3-minutes in the cryo chamber, blood flow is directed to the organs to protect them from the cold. At the end of your session, freshly oxygenated blood then pumps through your body, helping to heal problem areas. If you want a non-toxic pain relief option or aren't having success with conventional medicine, you may benefit from cryo.
How does cryotherapy help treat skin conditions?
Skin conditions such as dermatitis, psoriasis and eczema benefit from the cooling effects of cryotherapy. The cool air soothes inflamed skin conditions by stimulating an anti-inflammatory response and dulling nerve activity. 
How does cryotherapy accelerate muscle recovery?
Cryotherapy is a natural performance enhancer for athletes as it speeds up recovery times, helps muscle tissue repair faster and reduces swelling and inflammation. After a cryo session, oxygenated blood, which is richer in nutrients, is directed back to injured areas enabling faster healing. Additionally, endorphins are released, decreasing the perception of pain and improving sleep quality.
Does it work with other treatments?
Yes! We often recommend whole body cryotherapy as an add-on to other treatments.
Fat Freezing - Add a whole-body cryotherapy session as an add-on to your Cryo T-Shock fat-freezing treatment to speed up your metabolic rate, improve lymphatic flow and enhance your treatment results.
Skin Treatments - Whole body cryo is often used in conjunction with the MediLUX light therapy, to achieve even better results when treating inflamed skin conditions like acne, psoriasis and eczema. 
Localised Cryotherapy - Whole body cryo and localised cryo with the Cryo Penguin can be combined for a more thorough, targeted treatment for pain and inflammation. 
Mark Wahlberg loves the Cryo Arctic™ for muscle recovery. Now available at Below Zero Cryo.
Book your cryo session now!