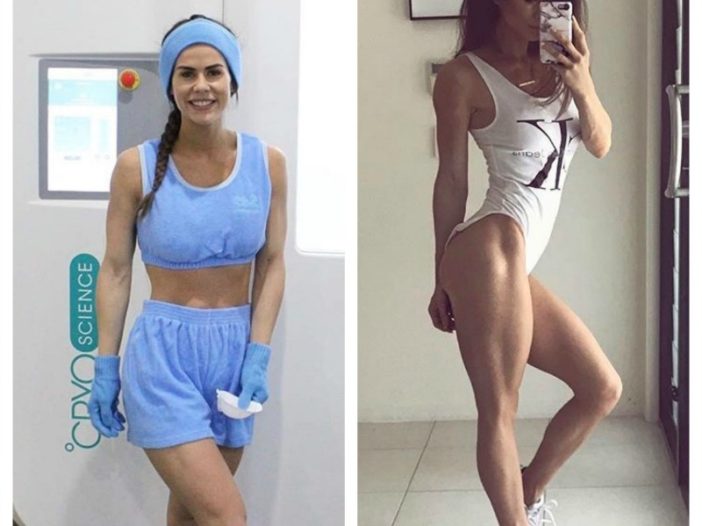 Real cryotherapy results from our Gold Coast Cryotherapy Studio!
Cryotherapy results are subjective.
No two bodies are the same, and, because cryotherapy is such a multi-faceted treatment, people's reasons for stepping into the chamber are different too.
If you choose cryotherapy to relieve chronic pain in your hip, your cryotherapy results will differ from someone who's chosen it to help clear up their skin complaint.
That being said, there are some immediate cryotherapy results that are consistent with every person who steps into the chamber.
Immediate cryotherapy results:
Euphoria
Cryotherapy promotes the release of endorphins so after your treatment you have the same feeling of exhilaration as if you've just stepped off a fairground ride. You're energised, you're excited, and that joy will last for hours. You'll probably, once you've warmed up, want to go straight back in and do it all over again! We've never once seen anyone leave the chamber without the biggest smile on their face!
Calorie burning
Excess calories continue to burn for hours after your treatment, but in 180 seconds you'll burn 800 calories which will aid weight loss. Just like that!
Instant pain relief
Cryotherapy works as a natural pain reliever. During your treatment, freshly oxygenated blood pumps to your source of pain which will have an almost immediate analgesic effect. The more treatments you have, the longer lasting the pain relief.
Longer term cryotherapy results:
Your long-term cryotherapy results very much depend on your condition to start with and you can notice improvements in any or all of the following areas:
Improved recovery time for athletes
Anti-aging
Boosts immune system
Increased energy and metabolism
Reduces inflammation
Flushes out harmful toxins
Boosts collagen
---
Brent Allchorn-Simpson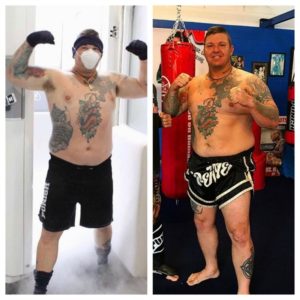 On June 17, Brent-Allchorn-Simpson, mental health advocate and founder of Heavy Hiterz stepped into the Muay Thai boxing ring for the first time in eight years to raise money for charity.
He underwent a strict training regimen to get himself to full fight fitness which included a course of cryotherapy. Just five days before the big fight Brent pinched his back which meant he could hardly walk on Tuesday. By Friday, in conjunction with a strict training plan, his cryotherapy results meant that he was injury-free and ready to fight the very next day!
"I cannot thank you enough for getting my body back to fight ready."
---
Tammy Hembrow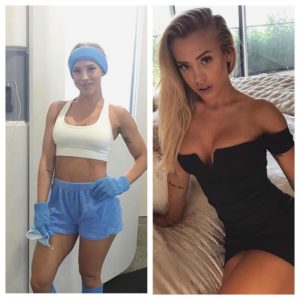 Fitness ambassador Tammy Hembrow makes a career from being fit, healthy, and inspiring others to do the same. With two small children, it's important to Tammy that her children follow her example of doing the best for their wellbeing. The internet sensation came in for a cryotherapy treatment and can't rate it highly enough. As a wife, mother, influencer, and health and fitness expert, Tammy's cryotherapy results speak for themselves!
---
Sophie Guidolin
A fitness model and mother to four young children, Sophie Guidolin is committed to her health and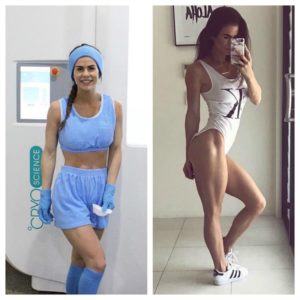 fitness and has dedicated her life to taking control of her wellbeing. When she came in to see us at Cryoperformance, she'd already heard that her cryotherapy results would meet her expectations and more. She was so impressed with her initial cryotherapy results, she now regularly steps into the chamber. Her friend is also a big cryotherapy advocate with regular treatments helping her reduce her prescription medicines for endometriosis from nine down to nil.  As someone who suffers from claustrophobia, Sophie was initially worried about stepping into the chamber but she said that 'three minutes goes so fast' and her cryotherapy results keep her coming back for more!
Guidolin is committed to her health and fitness and has dedicated her life to taking control of her wellbeing. When she came in to see us at Below Zero Cryo, she'd already heard that her cryotherapy
---
Ryder Guidolin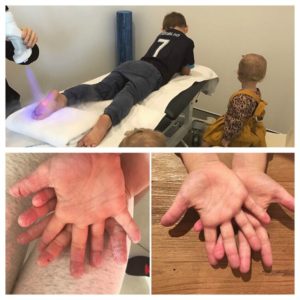 Sophie Guidolin's young son has tried every treatment under the sun in the past four years for his psoriasis. In just a few short weeks of localised cryotherapy, his dry, cracked skin is healing and his psoriasis has nearly gone. Ryder's cryotherapy results have almost cleared up an ailment that has caused him pain for the past four years.
Because of his age, Ryder's cryotherapy is administered locally using the cryotherapy penguin machine so he doesn't have to put his full body into the chamber.
While specific cryotherapy results vary from person to person, consistent treatments will enhance your wellbeing as well as targeting your specific ailments.